10 Best AI Tools to Use for Content Creation in 2023
In this post, we will present you with a carefully curated selection of the Best AI tools for creating content.
Artificial intelligence in marketing has ceased to be a mere trend and has become a fundamental tool in the creation of content in various fields.
From article writing to video production, this technology is revolutionizing the way information is created and distributed.
Although we already presented a list of the best AI tools in marketing, in this exciting world of artificial intelligence applied to content, there are powerful tools that can enhance your work and take it to new levels of efficiency and productivity.
We'll explore how these solutions can optimize your work, allowing you to generate high-quality content more efficiently and effectively.
You will discover how artificial intelligence can become your strategic ally to boost your creative projects and stand out in an increasingly competitive market.
5 Best AI tools to create content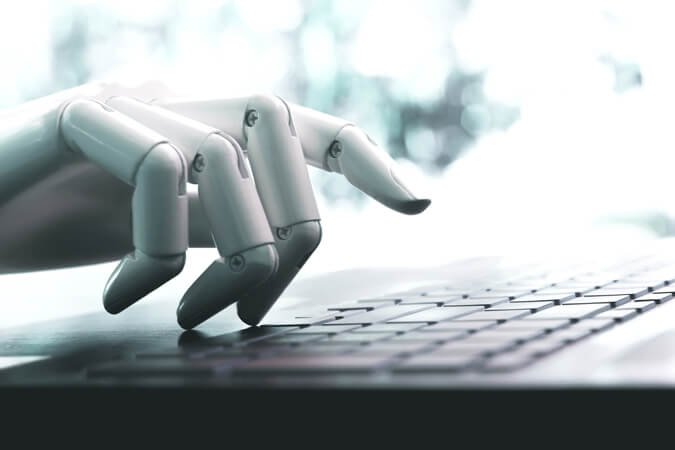 1.The tool that revolutionized text generation: ChatGPT
ChatGPT is a powerful and best AI tools based on artificial intelligence developed by OpenAI, well known and used to create content in marketing. With its ability to generate text fluidly and coherently, ChatGPT can assist in creating persuasive and engaging copy for ads, emails, and product descriptions.
Additionally, you can provide ideas and suggestions to improve existing content or generate fresh content based on specific marketing needs.
By asking questions or posing challenges, ChatGPT can offer relevant answers and provide different approaches to address a problem or marketing strategy. This helps marketers find inspiration and new perspectives, allowing them to create innovative and effective strategies.
The free version of ChatGPT offers limited functionality but is still a valuable tool for content creation in marketing.
Although it has some restrictions, such as a limit on the length of responses and a limited number of requests per minute, it can still be used to generate ideas, get suggestions, and explore different writing approaches.
However, it is important to note that the free version may not be sufficient for large-scale projects or with specific requirements. To access more advanced capabilities, such as longer response lengths and more intensive use, you may consider upgrading to a paid version or exploring other specialized marketing tools that offer more comprehensive features.
2.Create content with ease using Monica, the Google Chrome extension
In the world of content marketing, creating quality content is key to attracting and retaining your audience. Fortunately, there are tools like Monica , a free extension for Google Chrome, that simplifies and improves the content creation process. Monica offers a number of functionalities and features that help creators generate engaging and well-written content.
One of Monica's most notable features is its ability to analyze text and provide suggestions for improvement in real time . The extension uses natural language processing algorithms to identify grammatical errors, confusing or repetitive phrases, and offers recommendations to improve the style and structure of the text. This is especially useful for those who want to ensure their content is error-free and easy to understand.
Monica also has a keyword suggestions feature. When writing content for SEO, it is essential to use the right keywords to improve search engine rankings. With Monica, creators can get relevant keyword suggestions as they type, allowing them to optimize their content for better results in terms of visibility and organic traffic.
In addition to the aforementioned functionalities, Mónica also offers features for content management and organization. Allows you to save and organize useful text fragments, links and notes for future reference. This is particularly beneficial for those working on large projects or who need to have quick access to relevant information while creating content.
Its free version is limited to 30 queries per day with GPT-3.5 , however, it is particularly useful if you are looking for a free and powerful tool to create quality content.
With Monica's help, content creators can improve their productivity, write clearer and more compelling content, optimize for SEO, and maintain a more organized workflow
3. Unleash your creativity with Wordsmith: The free and best AI tool to create captivating content
Wordsmith offers users an easy and effective way to generate engaging content with the power of Artificial Intelligence. Best of all, Wordsmith is a best AI tools that allows content creators to unleash their creativity at no additional cost.
Wordsmith's core functionality lies in its ability to generate text based on data and patterns. The tool uses AI algorithms to analyze and understand large sets of data, and then generates consistent, personalized content.
You can use Wordsmith to create reports, summaries, product descriptions, and much more . Simply provide the relevant data and Wordsmith will take care of the rest, saving you time and effort on manual writing.
In addition to its ability to generate data-driven content, Wordsmith also offers customization options. You can adjust the tone, style and structure of the generated text to suit your specific needs. This allows you to maintain consistency with your brand and target your audience effectively. With Wordsmith, you not only save time generating content, but you can also achieve more accurate and high-quality results.
4. Canva: The best AI tools for amazing designs
Canva has become an essential tool for designers and non-designers alike. What makes Canva stand out even more is its ability to use artificial intelligence (AI) to offer an even more amazing design experience.
This free, cloud-based tool uses AI to improve and streamline the visual content creation process, delivering amazing results without the need for advanced technical skills.
Canva's AI feature offers intelligent suggestions and recommendations based on the content you're creating. As you work on your designs, Canva analyzes your color, font, and image choices and provides you with additional options that complement your vision. This not only saves time searching for resources, but also inspires you to try creative combinations and explore new ideas for your designs.
Another AI feature in Canva is the ability to automatically remove backgrounds. If you've ever struggled with the tedious task of cropping images, Canva makes it simple by using AI algorithms to automatically identify and remove unwanted backgrounds. This feature saves time and effort, allowing you to create clean, professional visual compositions without having to master complicated image editing techniques.
In addition to its AI capabilities, Canva also offers an extensive library of pre-designed templates ranging from social media posts to presentations and business cards. With just a few clicks, you can adapt existing designs to your brand or personal style, further streamlining the content creation process.
The combination of AI and Canva's intuitive capabilities allows you to create amazing designs without requiring specialized technical skills. With this free tool, anyone can harness the power of AI to bring their creativity to life and make their visual content stand out in a sea of ​​competition.
5. Lumen5: The best AI tool that turns your texts into videos
Lumen5 is a best AI tools that is revolutionizing the way visual content is created. With its focus on creating engaging videos, Lumen5 allows content creators to transform their texts into high-quality audiovisual content.
Best of all, Lumen5 offers a free version that provides access to a wide range of functionality to create stunning videos without having any video editing experience.
Lumen5's main functionality is its ability to analyze text and convert it into dynamic videos. The tool uses artificial intelligence algorithms to identify keywords and key concepts in the provided text, and then selects relevant images, videos and music to create a coherent and engaging video.
This saves time and effort searching for and manually editing media elements, allowing you to focus on creating quality content.
In addition to automatic video generation, Lumen5 also offers customization options. You can adjust the style, duration, and sequence of media elements in your video, as well as add your own custom content, such as logos and additional text. This flexibility allows you to adapt your videos to your brand and your specific needs.
With Lumen5, you can create professional and engaging videos without the need for advanced video editing skills.
5 Paid Artificial Intelligence Tools to Create Content
1. Copy.ai – a great assistant for writing effective texts
Copy.ai is an artificial intelligence tool that helps marketers create better content, faster. It is a complete content optimization platform that uses machine learning to automate the entire content writing process.
When it comes to content writing and copywriting, it is a great tool for marketers because it helps them create better email subject lines, blog posts, ad copy, sales pitches, video scripts, and more. of content in 12 languages .
Additionally, Copy.ai allows you to upload your existing website and use it as a template to create new content. The AI ​​then takes this template and uses it as inspiration to create new content in the same style as your original work. This means you don't have to start from scratch every time you want to create something new: just upload your current site and let the AI ​​do its thing.
The writer uses AI algorithms to automatically generate ideas and suggestions for readers. He also creates multiple variations of each piece of content so you can test which one works best with your audience.
Copy.ai has a free 7-day trial of its premium plan and the price of this plan is €45, however it has a free plan limited to 10,000 words per month.
A tool like Copy.ai is a great ally for copywriters, creatives, editors and marketers in general, to generate content faster. Although it still does not have a level of writing that equals professional human writing, its quality is improving and allows it to be a support when saving time in writing and offering ideas for a creative process.
2. Adobe Sensei: automate tasks by integrating it with Adobe products
Adobe Sensei is an artificial intelligence platform that integrates with Adobe products such as Photoshop and Premiere Pro. You can use it to automate repetitive tasks, improve the quality of images and videos, and much more.
Adobe Sensei's core functionality is its ability to automate complex and repetitive tasks in Adobe programs such as Photoshop, Illustrator, and Premiere Pro.
Sensei uses AI algorithms to analyze images and videos, detect objects, identify faces, and automatically improve visual quality. This allows creatives to save time and effort on tedious tasks, freeing up their time to focus on the creative part and achieve high-quality results.
Adobe Sensei is available on paid Adobe Creative Cloud plans . Users can access Sensei and take full advantage of its features by subscribing to the plans that best suit their needs.
Adobe Creative Cloud plans offer additional benefits such as cloud storage, software updates, and access to all Adobe tools. With Sensei as part of their creative toolset, users can boost their creativity and take their projects to the next level.
3. MarketMuse: Boost your content creation strategy
MarketMuse helps marketers and content creators drive their content creation strategy efficiently and effectively.
From keyword research to generating optimized content, MarketMuse offers advanced functionalities that allow you to create quality content that engages your audience and improves your search engine rankings.
MarketMuse's core functionality is its ability to analyze and optimize your existing content. The tool uses AI algorithms to scan your content and provide you with precise recommendations on how to improve its quality and relevance.
MarketMuse helps you identify relevant keywords, optimize content structure, and ensure you're covering all the important aspects of a given topic. This data-driven optimization helps you create richer, higher-quality content, which in turn improves your visibility on search engines.
MarketMuse offers different payment plans that adapt to the needs of different users and companies. These plans give you access to a complete platform to improve your content creation strategy and gain a competitive advantage in the market.
Whether you're just starting out or already have an established content strategy, MarketMuse is designed to help you achieve your goals more efficiently and effectively.
4. Artlist: Create custom music and sound effects
Artlist is a powerful tool based on artificial intelligence that is revolutionizing the way audiovisual content is created. With its vast library of music, sound effects, and audio tracks, Artlist allows content creators to access a wide range of high-quality assets to enrich their projects.
Artlist's core functionality lies in its music and sound effects library, which features a wide variety of genres and styles to suit any project.
Using its artificial intelligence, Artlist can recommend music tracks and sound effects that perfectly fit the style and theme of your visual content. Whether you're creating a promotional video, short film, or presentation, Artlist offers you the perfect tool to find the ideal soundtrack.
Artlist offers paid plans that provide access to their full library and additional features. These plans include unlimited use licenses for music and sound effects, allowing you to use the assets in all your projects without limitations.
In short, whether you choose to use the free version or subscribe to its paid plans, Artlist gives you the necessary tools to raise the quality and impact of your audiovisual content.
5. Optimize your content with Acrolinx
Acrolinx is a best AI tools that is changing the way content is created and optimized. Designed to help writers and content creators, Acrolinx uses its advanced AI to analyze and improve the quality of text, ensuring it meets your organization's brand, style and voice standards.
Acrolinx's core functionality lies in its ability to analyze and optimize written content. The tool uses AI algorithms to analyze text for grammatical errors, style issues, and consistency in terminology.
Additionally, Acrolinx offers tips and recommendations to improve the clarity and readability of your content. With its real-time analytics capabilities, Acrolinx allows writers to edit and improve their content as they write, saving time and ensuring consistency across material.
Acrolinx offers different payment plans that adapt to the needs of different users and organizations. These plans provide access to additional features and benefits, such as integration with editing and publishing tools, advanced rule customization, and dedicated support.
With Acrolinx, you can take your content to the next level by optimizing its quality, style, and consistency. Whether you're creating blogs, reports, marketing content, or technical documentation, Acrolinx helps you maintain a consistent and engaging quality standard.
Conclusion:
The artificial intelligence tools for creating content presented in this post are just a sample of the options available on the market, and each of them has the potential to speed up and improve your creative work.
By adopting these tools, you will be able to increase your productivity, generate high-quality content, and make the most of your creative skills. Whether you are looking to improve efficiency in content generation, optimize your marketing strategies or create more persuasive messages, artificial intelligence can be your strategic ally.
Don't be afraid to explore and experiment with these best ai tools, as they will give you new opportunities to stand out in an increasingly competitive digital world.
Ultimately, artificial intelligence does not replace human creativity, but enhances and complements it.
Think about it, by harnessing the power of AI, you can free up time and energy to focus on more strategic and creative aspects of your work. Creating content in the age of artificial intelligence is exciting and challenging, and those who embrace these technologies will be best positioned to excel in today's market.
Don't miss your chance to make the most of these best AI tools and take your creativity to new heights!