The best antivirus of 2020 : The protection that costs less
Internet security suites or solution packages are great if you really need to cover all fronts. However, there are somewhat more basic antivirus programs in place, which can guarantee the same level of protection for your devices.
You may not need to apply parental controls, cloud storage, or access or an included VPN. In this case, it will be worth buying an antivirus software that protects your PC on the Internet, keeping your data safe from malware and your privacy.
And that's exactly what the six alternatives discussed here do: They offer a defense against top-tier malware so you can browse web pages and use network services without worrying about your team.
In addition, they have another incentive. It will not slow down your computer and it will not consume additional resources from your system, which is why some security suites are often criticized by users, slowing down certain processes.
We have included free options as well, as well as those you must pay for, but a small yearly amount. If what you need is a comprehensive security solution that is multi-device and cross-platform, check out our guide to the best antivirus for Windows of the year.  
If it turns out that you only need the basics, read on for each product to get our recommendations on the best antivirus that works in Windows 10 and, in most cases, also in macOS.
The best antivirus of 2020
Panda Dome Essential
Panda has recently simplified its Dome home security offering in order to clarify, based on the name, which product is more basic or which is more advanced. Thus, we have from low to high Panda Essential, Advanced, Complete and Premium.
The prices with 50% promotion are currently based on the Rs.1430/- presented by Panda Dome Essential (here commented), which includes antivirus and firewall for Windows, real-time protection for Mac and Android, free VPN (limit of 150 MB / day) and wifi protection. 
To tell the truth, it is one of the most functionalities currently offered in its most basic version, as you can see, although the basic version leaves out parental control, identity protection or security against advanced threats, something that you do have in Panda Dome Advanced that costs Rs.1920/-
If you choose to fully secure your computer or system, you should know that with Panda Dome Premium you will have everything mentioned, in addition to Clean Up to optimize your operating system, as well as Premium VPN with secure and unlimited browsing, something that not all suites contemplate. 
Norton AntiVirus Plus
The variety of security products and solutions offered by Norton (now owned by Broadcom after the purchase of Symantec), is enormous, allowing it to offer different types of products and very varied prices that you can consult here . 
The Norton AntiVirus Plus version is currently the cheapest (Rs.1225/-), with the possibility of purchasing it at a low price to guarantee security for a Windows computer for one year. The renewal later becomes Rs.2858/-. if you want to continue with the license. 
As standard, it guarantees antivirus protection, anti-spyware security , protection against malicious software, as well as other forms of ransomware . It also includes firewalls for PC and Mac, since it is cross-platform, with a password manager included.
Additionally, you have 2 GB of storage to perform a cloud backup, available only to users of Windows computers. At the time of writing the article, its price discount is 57% compared to the usual one.
Bitdefender Antivirus Plus
Another highly reputable brand, Bitdefender, offers its most basic security at a low price of Rs.2041/- in the case of Antivirus Plus version 2020. This license is valid for a single device, but if you add Rs.408/- more, you will be protected 3 computers. 
And is that the manufacturer's website is very transparent in this regard. You can scale up to 3, 5 or 10 devices and vary the license for 1 year, 2 years or even 3, in order to find the solution that most interests you.
In the prestigious comparisons carried out by the AV Test laboratory, Bitdefender's solution in 2019 received the product of the year award, which can give you an idea of ​​its great potential.
The most basic version here commented, leaves parental control, so if you have children with computers or devices, you may be interested in opting for the Bitdefender Internet Security 2020 with which you cover this facet for a price not much higher. 
Going back to Antivirus Plus, there is protection against ransomware and all viruses. The software also stops phishing attacks that try to steal confidential information, such as passwords, and there is also the SafePay browser that protects your bank transactions or purchases you make online. 
Kaspersky Anti-Virus
$ 29.99 for 3 PCs or Macs
There is no doubt that the security solutions of the Russian company are one of the most acclaimed by users, as evidenced by its wide network of users and customers spread throughout the world.
The most basic protection comes from the hands of Kaspersky Anti-Virus, with a price now special for a device throughout a year. The solution protects your PC and your data against malicious use without affecting the performance of your PC.
It lacks extra features like parental controls, as well as privacy and identity protection. Nor does it have secure payment in e-commerce, as it does offer the most advanced Kaspersky Total Security solution at a price of Rs.3182/- per year.
If you opt for the intermediate version of Kaspersky Internet Security, you should know that you have an encrypted web browser for online payments, as well as privacy features that prevent applications from hijacking your webcam, for example.
Like its rivals Bitdefender and Norton, Kaspersky managed to detect and block 100% of known and Zero-day threats in AV-Test tests, in the latest AV-Test report published in January / February of 2020.
Eset NOD32
NOD32 is a name that dates back to the eighties, to give you an idea of ​​its great reputation in the cybersecurity market. It even predates ESET, and all its wisdom is transferred to the antivirus version for your Windows 10 laptop, PC or tablet.
Defends against malware threats including ransomware, in addition to phishing and spyware attacks . It is the same antivirus engine that is used in the other ESET packages: Internet Security and Smart Security Premium.
You won't even notice that NOD32 is running – it hardly uses any system resources and you will never see annoying pop-ups while running an application in full screen mode or playing games on your computer.
The company currently offers great flexibility, because even if you purchase an annual license for Windows PCs, you can always transfer it months later to another platform such as Mac if you buy a new computer.
The current price reflects that there is currently no outstanding offer as we have found in the other brands, but that does not mean that you are using one of the most advanced protections on the market, with functions inherited from the professional and business field. 
Windows Defender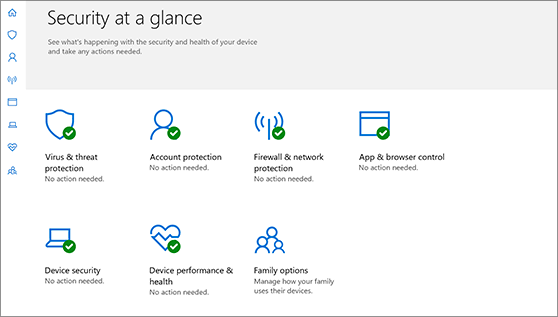 Speaking of basic security protection for computers, in the case of Windows computers, we could not rule out the solution that the operating system includes by default for all PC or laptop users.
It is free, but as long as you carry out the updates recommended by Microsoft, rest assured that security bugs and errors are quickly corrected when many types of malware appear , including viruses, Trojans and worms.
If you want to improve protection against phishing and malware when browsing web pages, you can enable the Windows Defender Browser Protection plugin for popular web browsers, including Google Chrome.
Defender updates automatically and in the main Windows Security application, you will also find additional settings for the Firewall. You decide if you are worth it with Defender, or on the contrary, you should opt for payment alternatives with a better response.