Bitcoin surpasses its all-time high three years later and again touches $ 20,000
On December 16 2017, Bitcoin reached $ 19,786.24 , its historical maximum price after a rally that led it to multiply its value by 16 in just eight months and double it in the ten days prior to the record. The euphoria turned into a nightmare for those who invested in it shortly before that historical maximum, believing that the upward race would continue for months, since after that maximum came the fall of up to 84% of its value. Every drunkenness has its hangover and December 2017 was for Bitcoin the mother of all cogorzas.
Almost three years later, Bitcoin has returned to the terrain of its all-time high, surpassing it by three dollars according to the Bitcoin Price Index published by Coindesk , just a few days after surpassing the all-time high in market capitalization for the largest number of coins issued since then, that already exceeds 18.5 million. The remaining 2.5 will continue to be mined little by little in a deflationary way until it is the turn of the last unit, around the year 2140.
New all-time high after the third halving
In recent months we have seen some signs of intense activity with the queen cryptocurrency, such as the largest transfer in value in dollars in history , through which 88,857 bitcoins – almost 1,000 million euros at their price that day – were transferred from a purse to another.
Also read: How to use a free Bitcoin generator
The third Bitcoin halving , produced in May of this year, was another event whose expected consequences was the increase in value of the currency, although the largest increases after a halving occurred a year after it, at which time there are still almost six months to go. In the latter, which occurred on May 11, the value of a Bitcoin was just over $ 8,000. Since then that value has more than doubled , but as always in Bitcoin and any other type of investment, past returns do not ensure future returns.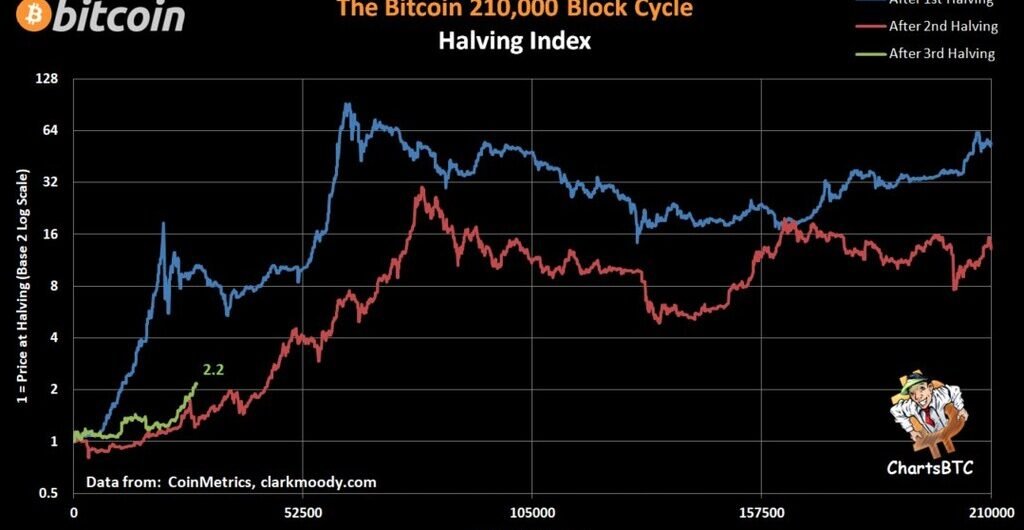 However, the evolution of the value of Bitcoin is being higher at this point after the third halving than after the second, in 2016, and it is still far from the first, in 2012, when the price shot up much earlier and led to much higher returns that culminated in that stage with the flood (and subsequent fall) of 2013 .
Other recent developments have also been positive for the crypto scene. For example, the investment of 50 million dollars by Square , the other company of Jack Dorsey, CEO of Twitter; or the recent opening of PayPal to operations with this type of currency . Bill Harris, its former CEO, said of Bitcoin less than two years ago that it " is a scam ." In the long term we will see, for now PayPal has embraced Bitcoin and other cryptocurrencies. Even Citibank has forecast a large increase in its price .