The best smartphones of 2020
Everyone needs a mobile phone, but it's not always easy to know which one to choose. In this article you will find the 10 best smartphones of 2020 that offer more features at a better price from manufacturers such as Samsung, Huawei, Apple and Google.
In the smartphone market , there is such a wide offer  of models that it can be difficult to choose one that fully adapts to what you are looking for. Luckily, today we bring you this  ranking  of the best smartphones this year.
Below, you will find Best smartphones from leading companies in the sector such as Samsung, Apple, Google or Huawei, but you should know that there are many more. It is worth knowing all the options, since the best Smartphones for one person may not be that of another.
Also, do not forget to review the recommendations that we have also included in this article to know the four basic aspects to keep in mind before making the purchase. There are many different types of mobile phones: cheaper mobile, simple mobile, mobile with Dual SIM … In this article, we have taken into account all of them to choose the top 10 best smartphones.
Comparative: What is the best smartphones of 2020?
1. OnePlus 7T Pro
The OnePlus 7T is a fantastic smartphone that will not leave you indifferent. It offers almost the same as the previous model, but now has a 6.5-inch AMOLED screen with a 90Hz refresh rate.
It also comes with three rear cameras and supports 30W wireless charging, allowing you to charge your phone almost half in just 20 minutes. The user experience is enriched by using OxygenOS 10 (based on Android 10).
In short, the OnePlus 7T has everything that can be asked of a 2019 smartphone. The design draws attention without being too loud, thanks to its matte finish. In addition, we value positively that it is a fairly light terminal.
2. iPhone 11
Before it went on sale, we already knew that the iPhone 11 would end up being included in this list. Apple tends to impress every year with its smartphones and without the need to reinvent the mobile phone industry.
In fact, it was enough to create the natural evolution of the iPhone XR. This is just what the iPhone 11 is . It doesn't feature too many changes, and still has a nice design (now available in new pastel colors).
Face ID has been improved and so have the cameras. The screen, despite not being OLED, offers a more than decent experience. It stands out above all the performance, which does not present any problem even when playing very demanding games.
3. Samsung Galaxy S20
The Samsung Galaxy S20 is the best model in the S20 series and, without a doubt, the best mobile phone currently manufactured by the South Korean company. It is compact, powerful and includes a versatile camera that, despite not matching the S20 Ultra, will not disappoint.
There is no doubt that this is one of the best cameras on the market, which means that the Galaxy S20 should be one of your first options if you prioritize photography when buying a new smartphone .
Although 5G connectivity has not yet reached its potential, it will at some point and you will want to have a compatible mobile like this when it does. Our main complaint is its battery, but you will not find Android software that offers more than this.
4. Xiaomi Mi 9
Extremely fast, surprisingly beautiful and incredible value for money, the Xiaomi Mi 9 is everything you could ask for from a smartphone . With a price of less than € 500, it is a step forward compared to the Mi 8.
Among the novelties, we find the new fingerprint sensor embedded in the screen, the Qualcomm Snapdragon 855 processor, 20W wireless charging, a larger screen and a triple camera that includes a 48 MP lens.
There is no doubt that the Xiaomi Mi 9 is one of the best mobiles of the moment, and on top of that it has an affordable price. In addition, it has one of the best configurations of cameras seen on mobile phones.
5. Google Pixel 3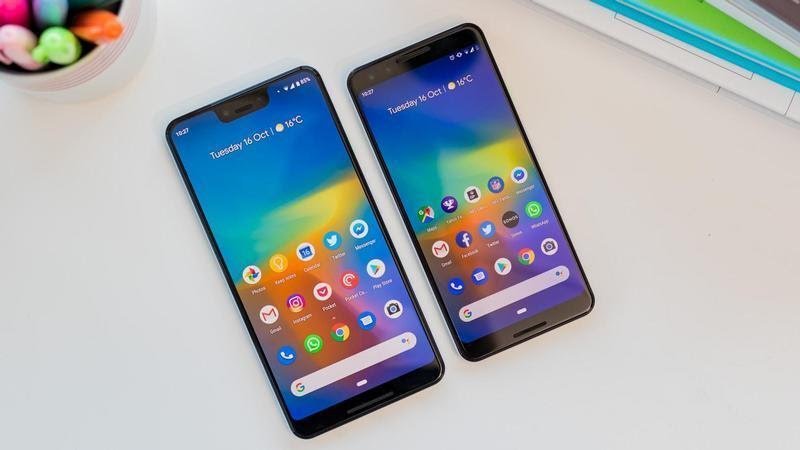 The best smartphones of Google Pixel 3 and Pixel 3 XL are the best mobile phones you can currently buy the market if you do not want to buy an iPhone. Now that the next model is out, you will find it cheaper.
The only differences between the two models are that the XL has a larger screen, includes a notch, and has a more powerful battery. Both, yes, have the same camera, which is also the best on the market.
Both of them have the best hardware that Google has ever used in one of their mobiles and, why not say it, it is also much more beautiful. We especially like that it can be purchased in black, white and a sophisticated almost pink.
As for performance, we celebrate that it supports wireless charging and is waterproof, like many of its rivals. Instead, we would have liked to see the fingerprint scanner included on the screen.
6. Oppo Reno 10x Zoom
The Oppo Reno 10x Zoom has many similarities with the OnePlus 7 Pro, but in this case, having an excellent camera configuration (instead of a better screen) is prioritized. This decision will be the right one for many.
This Oppo device has good specs, decent battery life and an attractive design. Of course, you will have to settle for the removable front camera in the shape of a shark's wing, a stylistic decision that not everyone will like.
In any case, you might like the Reno 10x Zoom to include the Snapdragon 855 processor and a virtually bezel-less display at a lower price than its rivals. You'll also like the 48 Mp lens and the 10x hybrid zoom.
7. Huawei P30 Pro
The Huawei P30 Pro has many similarities with the P20 Pro and Mate 20 Pro. Although there are many things to reproach him, especially the software that leaves much to be desired, this smartphone has excellent cameras.
The P30 Pro has an incredible 10x optical zoom and also achieves brilliant results in low light environments. That makes it a smartphone to buy if you're concerned about good mobile photography.
On the other hand, Huawei's flagship also stands out for its battery autonomy. The overall performance of the smartphone is also good and you might particularly like the iridescent design on the back.
8. iPhone 11 Pro
We are still not convinced by Apple's decision to name its flagship "Pro". This can lead to confusion, as this is a recurring expression to refer to the most premium smartphone in the same series.
However, there is no doubt that the iPhone 11 Pro is the best mobile ever made by Apple. We like its matte finish. In addition to preventing fingerprints, it also prevents it from slipping off your hands easily.
The OLED screen of the iPhone 11 Pro is fantastic, especially when using Dark Mode with iOS 13. The cameras are also excellent, the performance is very powerful and the battery life has been greatly improved.
9. Xiaomi Mi Mix 3
What is most striking about the Xiaomi Mi Mix 3 is the design of its selfie camera . The front dual camera hides behind the screen in a sliding system. We leave it up to you to decide whether or not you like this design.
We personally like that this design decision allows to have a screen without any type of notch or bevel, so the audiovisual experience is excellent. It is impressive to see how the industry has evolved.
The Mi Mix 3 is quite similar to the Mi Mix 2S, it is more, in some respects it has gone one step back. However, it is still a mobile that we would recommend, especially to those who cannot afford more expensive mobile phones on this list.
10. Sony Xperia 1
The Sony Xperia 1 has a somewhat unusual design and its 21: 9 aspect ratio will not appeal to everyone. However, keep in mind that these dimensions allow you to watch many Netflix movies full screen.
There's no notch , either, so you won't have a notch or sidebars to bother you when enjoying streaming content . In addition, the height of the mobile allows you to divide the screen in two and use two applications at the same time.
On the other hand, it is the first OLED HDR 4K screen without a notch on the market and presents much better cameras than previous models. It will not be a smartphone for most, but it offers the best on screen, video and cameras.