Top 10 alternatives to Netflix
In many countries Netflix has set a precedent in the world of streaming. For a long time, the company has even commercialized its own productions of all kinds of genres and thus contributes to the success of this format. His arrival was a revolution and is currently measured with other platforms such as Amazon or HBO. The market today has a large number of alternatives to Netflix that are also presented as platforms with their own offer, with autonomous productions and with various payment models. All this gives rise to confusion today. What alternatives to Netflix are there? What do they offer and how much do they cost? For the answers to these questions, read on.
Going forward we will focus on Netflix, Amazon Prime Video, Filmin, Rakuten.tv and Rakuten Wuaki, Google Play Movies & TV, iTunes Video, HBO Spain, HBO GO and Crackle. It should be noted that this article does not take into account free portals such as YouTube, even though it also includes movies and series that are, in part, legal.
Netflix: what does the streaming platform offer?
Netflix occupies a prominent place among existing streaming platforms. The well-known service manages to collect all the points contemplated in our analysis: while the offer of films still has a lot to improve and there are still many cult classics and films, as well as independent works, the strength of the service is its own series and productions. . Especially the most successful series, such as Stranger Things , Orange is the New Black , Black Mirror, Narcos or the Marvel series that includes titles like Jessica Jones ,Luke Cage and Daredevil , know how to get the attention of the public and ensure the entertainment of users for weeks or months. The label "Netflix Original" has managed to establish itself as a quality seal on the platform.
In addition to its own productions, the website also brings together such popular series as The Walking Dead , Modern Family , The Big Bang Theory or Breaking Bad . There are some cases, however, where the waiting period is perhaps too long to be able to access the new seasons of certain series. The same can be said of the most current "blockbusters". Also, searching for titles like True Detective or Game of Thrones yielded no results. In return, new productions are regularly published: New content is released several times a month, and for special interests, the offer is covered with numerous documentaries and anime series.
But Netflix stands out above all for offering a subscription that can be flexibly canceled and for having numerous additional features.In this sense, the possibility for users to try the service for one month for free and to cancel their subscription at any time means that it can be enjoyed without any risk. If the platform does not meet your expectations, you can turn to others after a month, which becomes a point in favor of it. Likewise, the service is also interesting for those who travel by bus or train: in addition to the native apps for numerous Smart TVs, consoles, Apple TV, Chromecast and the classic web pages for each browser, there are also mobile apps for iOS, Android and Windows Phone. You can also download a practical function for the iOS and Android version, so that it is also possible to access the content without having to have an Internet connection.
Netflix has HD and Ultra HD audiovisual content, although these are only available in standard and premium plans, of higher price. This would not be a problem, if the price and performance of the most expensive rates were not so divergent, since the benefits of the most expensive plans are not worth it for all users. While access to HD definition titles in the standard plan is a bonus that a high percentage of users could benefit from, the additional payment of money only offers the possibility of using Netflix services on two devices simultaneously. Incentives for the premium rate are somewhat slim too: Ultra HD definition and the ability to use the service on four devices at the same time. This option would only be interesting for families who have 4K / UHD devices and a faster Internet connection.
10 alternatives to Netflix: other streaming and on-demand video platforms
Some of the most popular streaming video platforms are only available in certain countries, so if we are interested in contracting any of these services, such as Hulu, we would have to use a VPN.
Personally, I think it is best to opt for platforms that broadcast in our geographic region, since in addition to being cheaper, it is easier to claim in case of any type of incident. That said, let's get to the point …
Amazon Prime Video
The great alternatives to Netflix has a first and last name: Amazon Prime Video. Both in terms of quality, quantity and price, Prime Video is the great alternative to Netflix . Here we find self-created series such as The Good Omens, The Boys, Tom Clancy's Jack Ryan, The Man in the High Castle, American Gods or the future series of The Lord of the Rings.
Although the interface is not as intuitive as that of Netflix and many movies do not promote them as they should, it has many cult films and quality titles from the 80s, 90s and 2000s.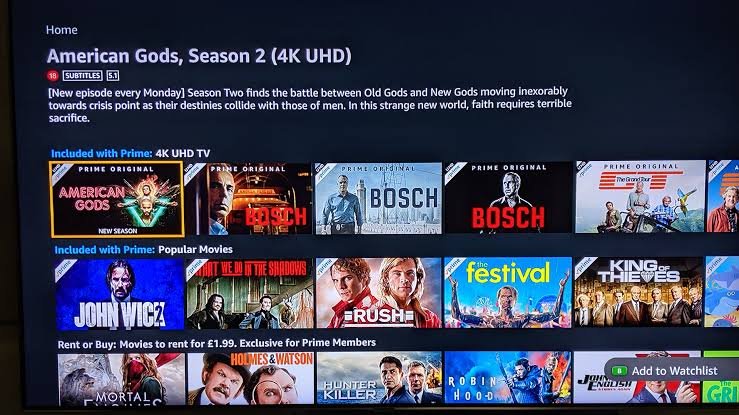 HBO
Another of the great alternatives to Netflix is ​​the video on demand (VOD) platform of the American channel HBO. Here quality prevails over quantity: there are fewer series and movies than on Prime Video or Netflix, but they are generally much better.
In its catalog we find recent blockbusters, superhero movies, comedy, highly acclaimed series such as "The Tale of the Maid", "Chernobyl", "Game of Thrones", "Big Little Lies", "Silicon Valley", "Veep" and a handful of more than interesting documentaries. Of course, there is absolutely nothing anime.
Crunchyroll
If what we want is to be well-stocked with Japanese animated series and movies and the offer from Netflix or Prime Video does not satisfy us, nothing better than to take a look at Crunchyroll. This streaming platform specialized in anime broadcasts the episodes that are broadcast in Japan just an hour later, and has iconic titles such as One Piece, Hunter X Hunter, Naruto Shippuden, Boruto, Attack on Titan, One Punch Man or the new Dr. STONE.
Disney +
Another very attractive alternatives to Netflix. In Disney Plus we will find a quantity of excellent quality content, with a catalog of true vertigo: all the films from Marvel, Pixar, Star Wars, National Geographic and Disney animation classics. All this together with new series (Mandalorian) and movies created exclusively for the platform. There is nothing.
Because it is a relatively new service (it was released in Spain last March) it has a fairly affordable price: € 6.99 / month or an annual subscription of € 69.99 per year. Of course it also has a 7-day free trial period that we can take advantage of to test its honeys and see if we are interested in continuing to subscribe to the platform.
Hulu
Hulu is one of the most important streaming platforms and best alternatives to Netflix in the United States. For now it can only be accessed with a VPN or residing in the country, so it is not one of the most viable options for the general public.
Anyway, it has a simply impressive catalog of series and movies, along with plenty of reality shows , talk shows and contests. In total, it offers content from more than 200 television networks and studios . Packages are also available to add premium cable channels and live TV.
Movistar + Lite
Movistar + is the great Spanish streaming content service, and the one that is betting the most on creating its own content. Until now, you had to be a Movistar client to be able to have access, but recently the company has launched Movistar + Lite, which does not require that we have any contracted line , thus becoming a similar service to that found on other platforms such as Netflix or HBO.
Currently the platform offers original content from channels # 0 and #Vamos, Movistar Series, Movistar SeriesManía and sports events. Programs like La Resistencia or Late Motiv and series like 'Game of Thrones', 'Orange is the New Black', 'House of Cards', 'True Blood' or 'Mad Men'. As its name suggests, it is a "light" version of the classic Movistar +: less content, but cheaper and accessible to everyone.
DC Universe
The digital platform of Warner Bros and DC Entertainment offers both streaming series and movies and comics in digital format . If we are fans of Batman, Flash, Superman or true pro deceites, this is the only streaming platform dedicated exclusively to superhero content, so it is worth taking a look.
In addition to having the classic catalog of the company, it is also debuting original series such as Titans, Doom Patrol or the sadly canceled The Swamp Thing. Unfortunately, the service is not yet available in Spain (requires VPN connection).
Rakuten TV
This Spanish platform, previously known as Wuaki.tv, was acquired by the Japanese company Rakuten, thus changing its name to Rakuten TV. We are facing one of the proposals with the most experience in the sector, being one of the first to offer streaming content on demand.
The platform offers a wide catalog of series and movies (aimed mainly at a youth audience), although its major flaw regarding Netflix, Movistar + or Prime Video, is that it does not have content of its own creation, which means that it cannot stand out with material exclusive. On the other hand, one of its great advantages is that it has a video club section – which is paid separately – where we can rent movies and watch them at home shortly after their theatrical release. Therefore, it has some of the most current titles, which is not bad either.
Sky
Another of the streaming offers that have been playing the most in recent months is the Sky platform. The service offers series and movies, as well as 16 live television channels, such as FOX, MTV, Canal Historia, Nickelodeon or SyFy, among others.
Personally, after having tried it for several days, I think it is one of the scarcest alternatives in terms of content, since it basically limits itself to offering videos on demand of what is broadcast on its TV channels together with the odd movie. On the other hand, if we like the programs and series that these channels broadcast, it can be a very viable option, since its price is one of the lowest and allows up to 3 simultaneous reproductions.
Snag Films
If we are looking for a free alternatives to Netflix , we can also take a look at the Snag Films website. Here we will find a wide selection of alternative films, some of them in HD and all without registration.
If we are lovers of independent cinema and we do not care too much about premieres and popcorn cinema, this is a place that we cannot miss.
Honorable mention: Popcornflix
We end the list with another free alternatives to Netflix. In this case, we will need a VPN to be able to view the content, but the truth is that to be a free and legal streaming platform it is one of the most complete we can find today.
The movies and series they broadcast are moderately old, though generally quite good (American Beauty, Star Trek), and even offer exclusive content of their own making.